The Grass Will Grow
BY RYAN LOFGREN
(PAT SCHINDELE'S MARKETING SPECIALIST)
My wife and I closed on our first home on February 17. The process was a lot like finding your true love. It shows up when you least expect it. My wife and I have had our setbacks financially which led us to believe that owning a home was a distant pipe dream. Three years ago we reset our finances and refocused our goals. We started from scratch. It took time, and discipline to get ourselves into a position to make our dream a reality. Once we were pre-qualified, and we did a walk-through of this house, we knew it was meant for us when we stepped in the front door. Even the address was customized for us! 1715: My wife's birthday and my birthday. There are still mornings when I wake up and it doesn't feel quite real.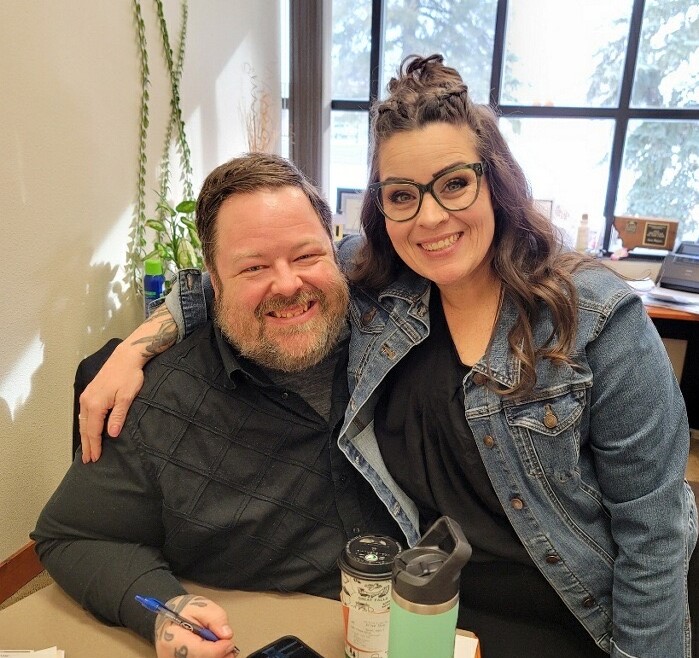 My wife, Valerie and I at our closing at Flying S Title
As with any big move, we've been slowly unpacking boxes and making the house our home. We've diligently spent the last month fixing the home, making repairs, touching up paint, and learning the quirks of the house. One of the quirkiest features is the Samsung oven that came with the home. The oven has dials for the stove-top burners on the front of the oven as opposed to the back. These dials are as sensitive as my daughter when I don't recognize what her playdough sculptures are supposed to be. I'm convinced these dials can be turned on with a slight breeze of my dog's wagging tail from across the kitchen. We've learned this the hard way by barely brushing the knobs and accidentally setting pizza boxes on fire… twice. We've bought stove knob locks since then and have stopped putting pizza boxes on top of the stove.
One of our favorite parts of the home is the yard. We previously lived in a mobile home that had a small yard with no fence. There wasn't much space to do anything in the yard. We couldn't set up outdoor furniture to sit on during warm summer nights. Besides we didn't enjoy having neighbors staring out their window 16 feet away watching us. We did have a park a few trailers down but we never felt comfortable enough to let our youngest go and play there alone. The new home, however, has a makeshift patio which is a great start. It's got a sturdy fence and it's a safe place for our kids to play. The only downfall is that the backyard has no grass. It is the Montana equivalent of the dust bowl. The previous owners parked an RV in the backyard so the dirt has been packed down to the point grass can't grow. Sod that was laid couldn't even take hold. The dirt hasn't slowed down our kids from playing outside though. In fact, I feel like they've spent more time outside in the last two months than they have in the last year.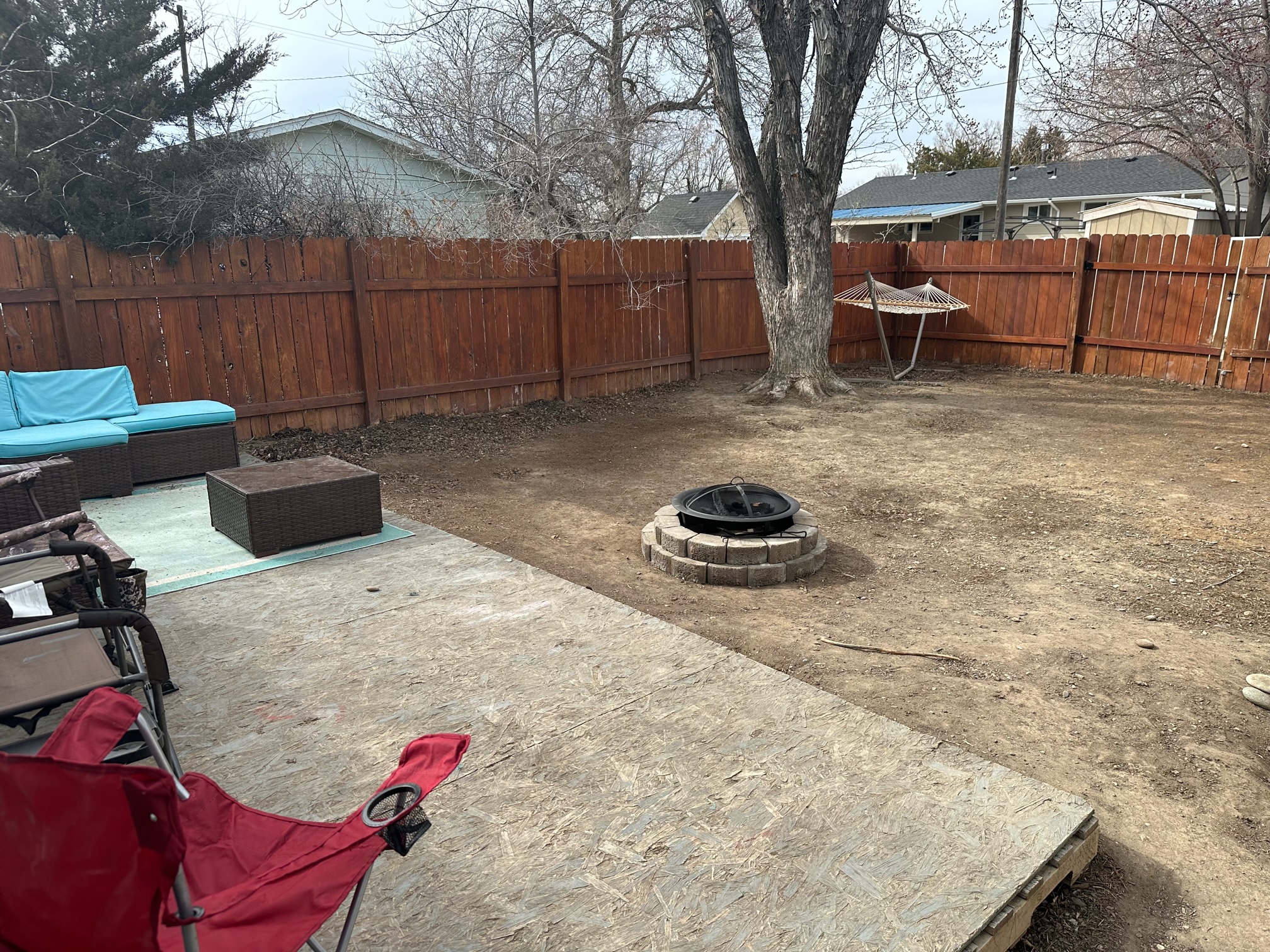 Our backyard, aka the Dust Bowl
With the Easter holiday a few weekends back, we were offered the opportunity to host the holiday at our new home. We'd never considered hosting at our mobile home. There was hardly enough parking for three vehicles, let alone multiple families. Plus space inside was so limited that it would have been a catastrophe. Our new home, however, was made to host between the sitting room, kitchen, basement space, backyard, and garage there would be plenty of room for people to spread out. When it came down to it, we couldn't say no. It was our opportunity to show off our home and take pride in the house we earned.
I was in charge of cooking the turkey and the ham. I manned the oven and roaster. My wife made dessert and helped with potatoes and stuffing. We went all out. The day reminded me of our wedding day. I spent so much time running around and focused on other things that I didn't have much time to socialize or relax. At least I got to snack on the turkey and ham while I cut it. Perks of being the cook. While my wife and I worked on food, the kids utilized every inch of our yard; the sitting room was sat in, the backyard was played in, and there were naps in the basement that stayed cool even as the lovely day grew warmer.
In the early afternoon, we ushered the kids inside and proceeded to hide eggs in the backyard. As the adults and older kids wandered around looking for hiding spots, my 16-year-old son asked how long it would be before we had grass growing in the backyard. My wife and I said we figured it would be several years before we could get grass growing consistently. We explained to him the process of having to rototill the yard so water and seeds could get down in the soil. We would also need to use fertilizer to mix in with the dirt for nourishment. It's going to be a process and nothing will happen quickly by any means. He understood but he seemed disappointed. His reaction sat with me the rest of the afternoon. I couldn't seem to get it out of my head. I've been almost hyper-focused on making this home better for everyone, but I didn't take it personally as he was just asking a question. It did make me take pause though.
As the night wound down, my family and my brother-in-law's family were both in the backyard playing charades and enjoying the remnants of the day. Everyone was laughing, we had a nice fire going, and the weather was primed for enjoying the outside air. Martin, my brother-in-law, brought up what a great house we have and how happy he was for us. I mentioned that after my son's comment, I was struggling a little with the lack of grass in the backyard. He scowled at me and shook his head in disapproval. He told me to look at what was happening in front of us: our families were spending time together and making memories. He asked me how the day went hosting at our house. I thought he was changing the subject, but I responded that it went pretty damn well. Everyone got along, the food was great, and it couldn't have gone any better really. Then he asked if anyone, besides myself, was upset about the grass. I had to think for a second, but couldn't think of it being brought up at all.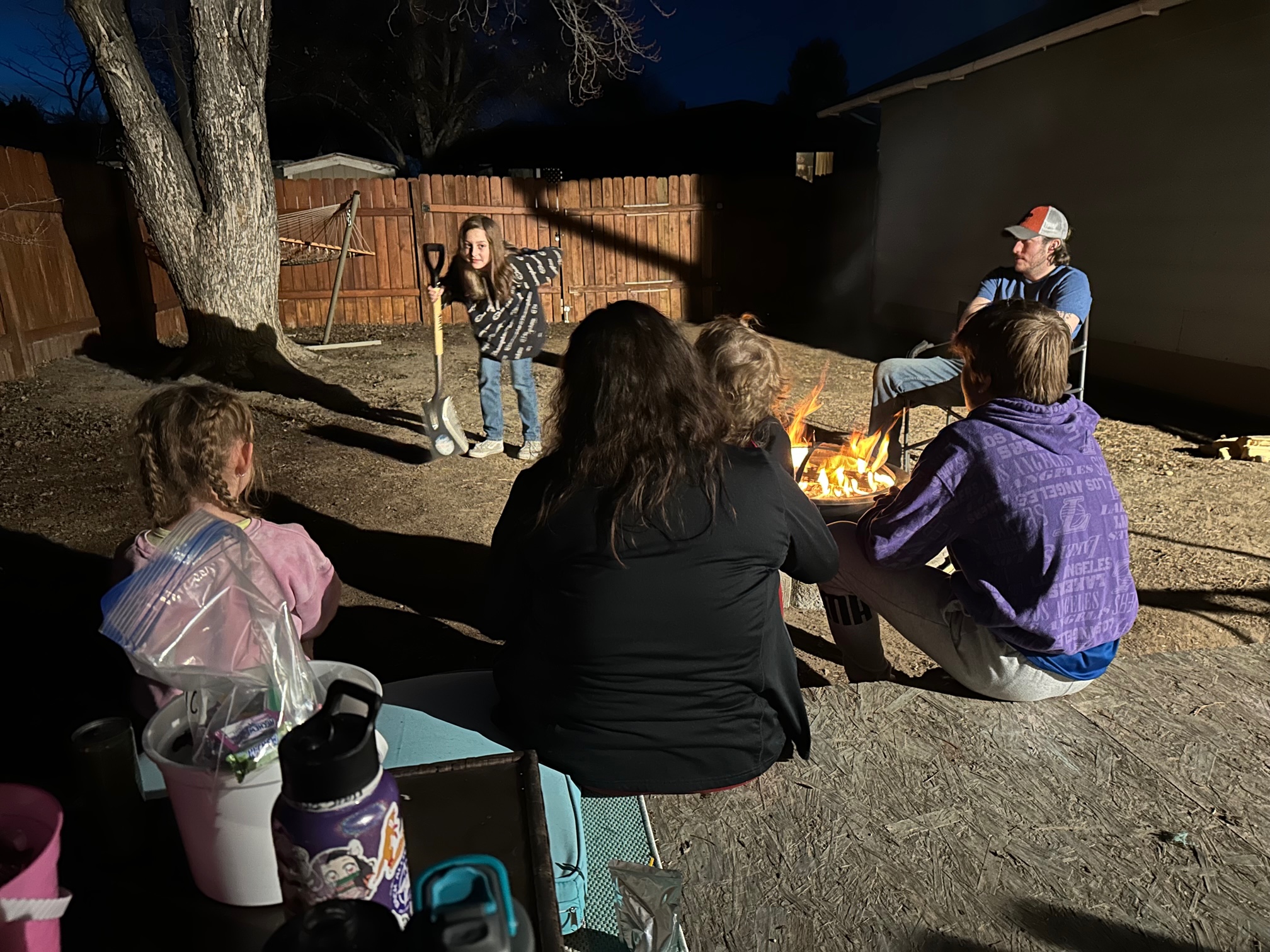 A fun game of charades with the kids and the Jones family
Martin looked at me and said, "The grass will grow when it's meant to. You're so focused on something that means nothing to everyone else. The lack of grass didn't stop the kids from playing in the yard. It didn't keep us from hiding Easter eggs. It's not stopping us from enjoying time together. Who knows if you'll even be able to get grass to grow back here? Are you going to let grass stop you from enjoying the memories?"
His comment transported me, momentarily, back to house hunting with my wife. After receiving our pre-approval letter to start looking at homes, I found myself picking out every negative aspect I could find on the houses we viewed. I could only see all the repairs I assumed I would have to do and quickly dismissed houses with reasons why each home wouldn't work. My wife, on the other hand, looked at the positives of each home. The biggest difference between us was that my wife could see the memories we could make in each home, and I only saw every reason why I thought we wouldn't be happy there. When it came down to it, I wished I had a better balance of vision and concern. This was to be our first home. I was so wrapped up in preventing us from walking into a fixer-upper situation that I let it consume my ability to see a home's potential.
When it comes down to it, I find that I also have a hard time relying on the opinions and support of others. It is my responsibility to find the pitfalls of any situation even down to the most minute details for the betterment of my family. However, as we became more comfortable with the home-buying process I learned that it's not all on me to find concerns about a home, that's what my broker, Pat Schindele, and buyer's agent, Mike Hines, were for.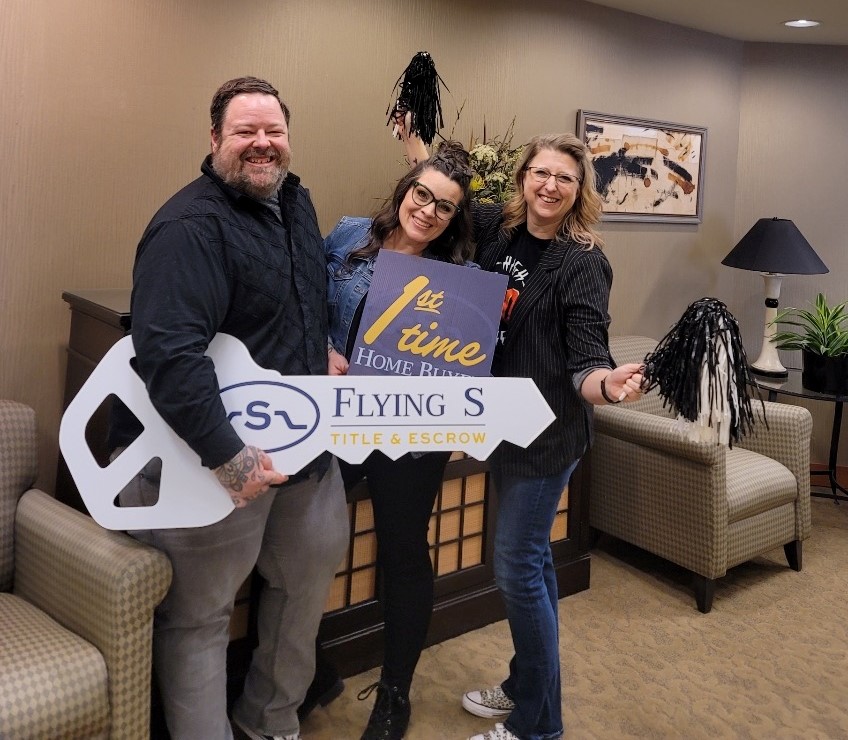 Jeanette (right), representing Team Schindele, cheering us on at our closing
Pat's experience and Mike's knowledge helped me be able to relax and release the reins a bit. My wife and I were still in control but Mike was a much-needed extra set of eyes and his knowledge base made it possible to know what to be concerned about during the walk-throughs. Pat knew what to say and who to talk to when we had concerns about the paperwork or the process, and when we felt like we were getting ignored Pat made sure we were heard. Jeanette was the organizer, especially when we had questions about who needed what paperwork or what comes next, she made sure we knew where we were in the process. The beautiful part of this team is that I realized I wasn't alone when it came to concerns about buying a home. I could step back and see the potential of the home knowing that my team wouldn't knowingly lead me into a home they wouldn't be comfortable living in themselves. Bottom line: trust your team because they're working for you. If they aren't acting in your best interests, then it's time to find a team who does.
So regardless if you're buying a home, hosting a holiday meal, or facing a dilemma, my advice is this: the next time you find yourself focusing on the dirt patch in your backyard, I want you to take a step back. Sometimes we are so deep in the woods we have a hard time seeing the forest for the trees. Look at the bigger picture. Take a moment to think about the memories you're making. Allow yourself to dream about the memories you can make. Oftentimes those all-consuming details are only bothering you. So you have two choices: you can sit in your worry about the small things to the point it consumes you, or you can allow yourself to relax and take in the moment. As for me, I'll be laughing, playing in the dirt, and making memories because I know the grass will grow when it's meant to.