Maybe this is Heaven…
BY RYAN LOFGREN
(PAT SCHINDELE'S MARKETING SPECIALIST)
I've always enjoyed watching "Field of Dreams." Being a huge baseball fan helps, but I love it for the story. Here's a quick summary of the movie for those not familiar with the film: Ray Kinsella, played by Kevin Costner, is a farmer in Iowa. He lives there with his wife Annie and daughter Karin. He hears a mysterious voice while out working in the cornfield that tells him "If you build it, he will come." Without understanding who, what, or why, he feels the urge to plow under a large portion of his crop to build a baseball diamond. The whole town laughs at him but with the support of his wife he follows his gut instinct as the voice continues to urge him to do things out of the ordinary. After building the diamond, the ghosts of players start to appear through the corn field to play at the diamond. Among them is Shoeless Joe Jackson played by the late Ray Liotta.
Throughout the movie Ray speaks about his troubled history with his father. Ray's mother passed while he was a baby, leaving his dad to raise him. Their only connection was the love of baseball, specifically the Chicago White Sox. Ray's dad idolized Shoeless Joe Jackson and that became a point of contention between the two. After a particularly damaging argument, Ray tells his dad that he could never love someone whose hero was a criminal. They never spoke again. We learn later on that all Ray ever wished he could do was turn back the clock and play catch with his father one last time. After building the field, which leads to foreclosure on the farm and following the tasks from the mysterious voice, we come to find out that the man who will come if Ray builds the field, is his father John.
| | |
| --- | --- |
| A view of the baseball diamond and the farm from the movie. | Kevin Costner as Ray Kinsella in "Field of Dreams." |
I remember hearing a quote by Robertson Davies that says "A truly great book should be read in youth, again in maturity, and once more in old age, as a fine building should be seen by morning light, at noon and by moonlight." While the "Field of Dreams" isn't a book, the story should certainly be watched at different points in a person's life. I watched this movie from a son's point of view as a teen. Watching it now, in middle age and as a father, the movie takes on an entirely different meaning. The feel of the movie shifts from spending time with your father to cherishing family and not wasting opportunities. The movie never fails to make me cry at the end. Tears for so many reasons. Thoughts of missed opportunities, time lost, and for the experiences I was fortunate enough to have.
I remember learning to catch from my dad in our backyard. Aspen trees rose in the middle, one edge of the yard was filled with lilac bushes, and a garden along the back. We had a wooden fence enclosing the yard (that I haphazardly pounded a ridiculous number of nails into as a boy.) We would spend so much time just throwing the ball between us. I took a few missed baseballs to the face but my dad had the patience to teach me how to throw… and eventually how to catch.
| | |
| --- | --- |
| My dad, Nels, (right) and I (left) at the Tie Hack Reservoir. His biggest accomplishment during his tenure as Mayor of Buffalo, Wyoming. | My sister Lisa (left), my dad Nels, (center) and I (right) during a visit home. Lisa lives in Illinois, and I live in Montana, so we all relish the opportunity to be at home together. |
While my father and I have had a few inconsequential spats, I never shared the disdain for my dad that Ray had for his. If I was forced to pick a fault of my father's it would be that he was often away for business. I know now that this was a double-edged sword for him. On the one hand, he had the greatest work ethic, rooted in the desire to provide for his family. On the other he had to spend so much time away. His biggest goal as a father was to provide a roof over our head, food in our bellies, and clothes on our back. This meant long nights inspecting oil rigs, and serving in the Wyoming Association of Municipalities when he was the Mayor of Buffalo, Wyoming. He was also a volunteer firefighter and he has served over 25 years in the American Legion as he is a Vietnam Veteran. It's not hard to see why he was often gone. Work, meetings, and fires took him away from home, but his heart was always under our roof.
Just as "Field of Dreams" took on new meaning after I became a father, my dad's duties also took on new precedence now that I am in the same position. As a kid I struggled with not seeing my dad. I thought he was making the choice to be away because he didn't want to be home. I never faulted my dad for choosing work over being home, but I never understood it. So many nights were spent missing him. Now, as a father myself, I understand why my dad did what he did. I understand why he was committed to work. He was doing it out of love. While my dad never often said "I love you," he showed us love by providing for us. We were by no means wealthy, but we were blessed with a full fridge, new shoes, and a house anyone would be proud to call home. My parents always wanted to take my sister and me to Disney World when we were kids, but life wouldn't allow it. So, instead, we would travel with my dad to meetings across Wyoming and we saw many small towns that most people would never think to visit. Then come Christmas time we always had presents under the tree, and a cake on our birthdays.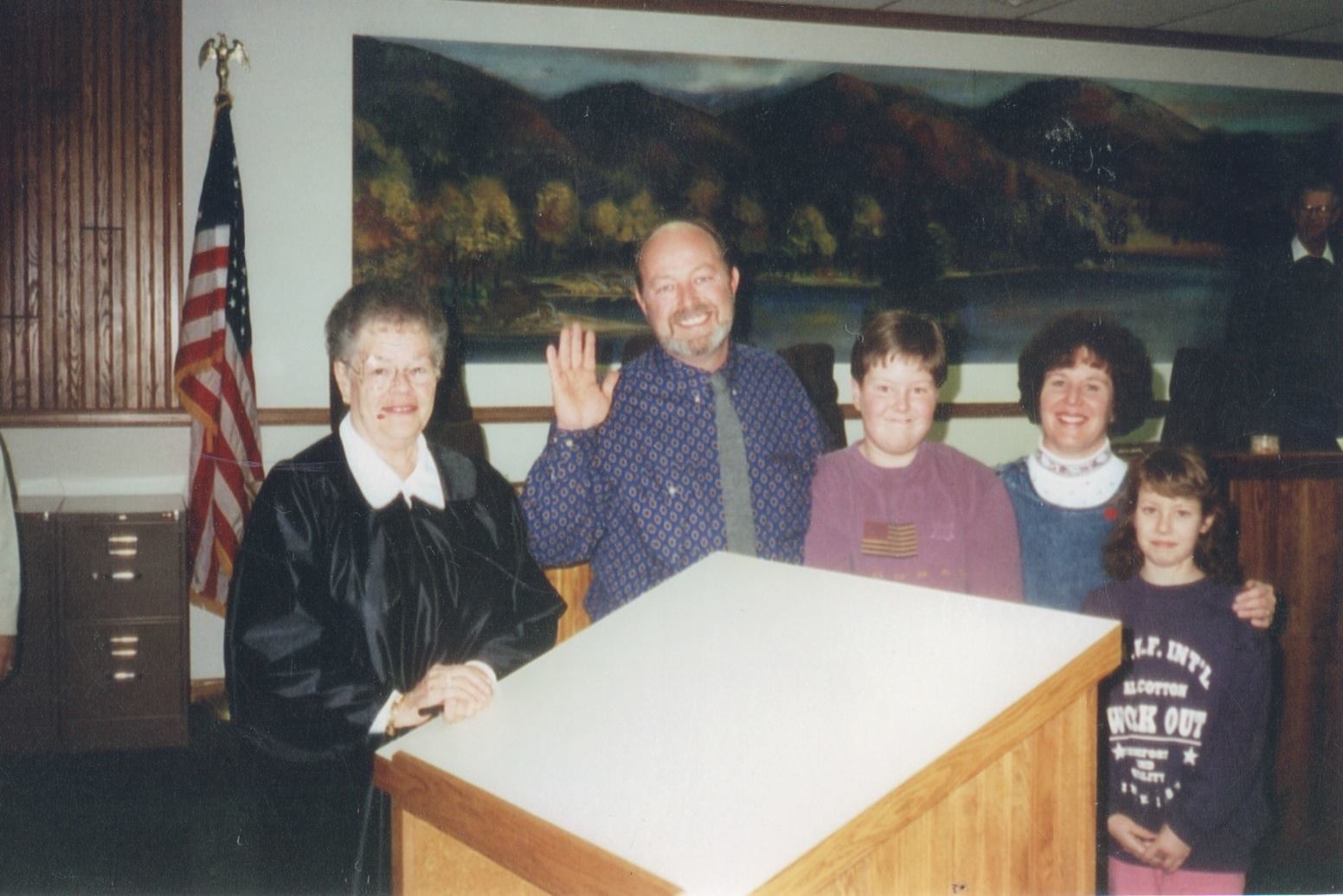 My family and I as my dad gets sworn in for City Council a few years before becoming Mayor of Buffalo.
Even with everything going on, dad would still take time to throw the baseball around. So when I watch "Field of Dreams" and see Ray playing catch with his dad, I find myself hit with a wave of emotions. I am thankful for the time I did get to spend with my dad. In most cases, it was more time than most get to have. My dad helped cultivate a love for baseball, a love that still lives on. I also think of the lessons my dad taught me that made me the person I am, but more importantly, the father I am. Lessons like providing for my family is one of the many ways to show them I love them.
At one point towards the very end of the movie, a 20-year-old ghost version of Ray's dad looks around at the baseball diamond in the setting sun then asks Ray if this is heaven. Ray chuckles to himself then responds "This is Iowa." John replies "Iowa? I could have sworn this is heaven." As John starts to take off his catcher's gear, Ray asks him if there is a heaven. Without hesitation, John says "Oh yeah. It's the place dreams come true." Ray pauses for a moment, takes in the baseball diamond he's standing on, then looks towards the house where his wife and daughter can be heard laughing on the porch swing. Ray sighs, then says "Maybe this is heaven." The two say their goodbyes and shake hands before John heads for the corn field. There's a sense of urgency, and reservation, on Ray's face. The movie closes as Ray swallows his pride and, a little choked up, asks John if he wants to have a catch. "I'd like that," John replies. Night falls as the two play catch in the field, and as Ray's wife flips on the field lights, we zoom out to see a long string of cars coming to pay for a chance to wander around the field.
| | |
| --- | --- |
| Ray speaking with the young ghost of his father, John Kinsella. | Ghost players from the 1919 Chicago White Sox. |
With a lump in my throat, and tears in my eyes, I find myself hoping that I'll be half the father my dad is. So this father's day I want to thank my dad for all he has done for me. I want to thank him for his time both at home and away. Thank you for the roof over my head, the food in my belly, and the clothes on my back. Thank you for the nights playing catch and the days spent camping. Thank you for pushing me and picking me up. Thank you for showing me it's ok to have feelings and share my emotions. Most of all thank you for showing me the true meaning of family. It's this lesson above all else I hold most dear. In a home where my children are not my blood, I never once questioned whether they were my family. Now I strive every day to live my life to its fullest potential. I try to be the man my dad would be proud to have raised. I hope to one day look back on my life and know my children feel the same way about me that I feel about my dad. I hope they are as proud to have me as a father as I am to call them my kids. This father's day I look around at my house filled with family and I can only help but think of those final lines from the "Field of Dreams." Is this heaven? I ask myself. No, it's Montana. But maybe, just maybe, this is heaven after all.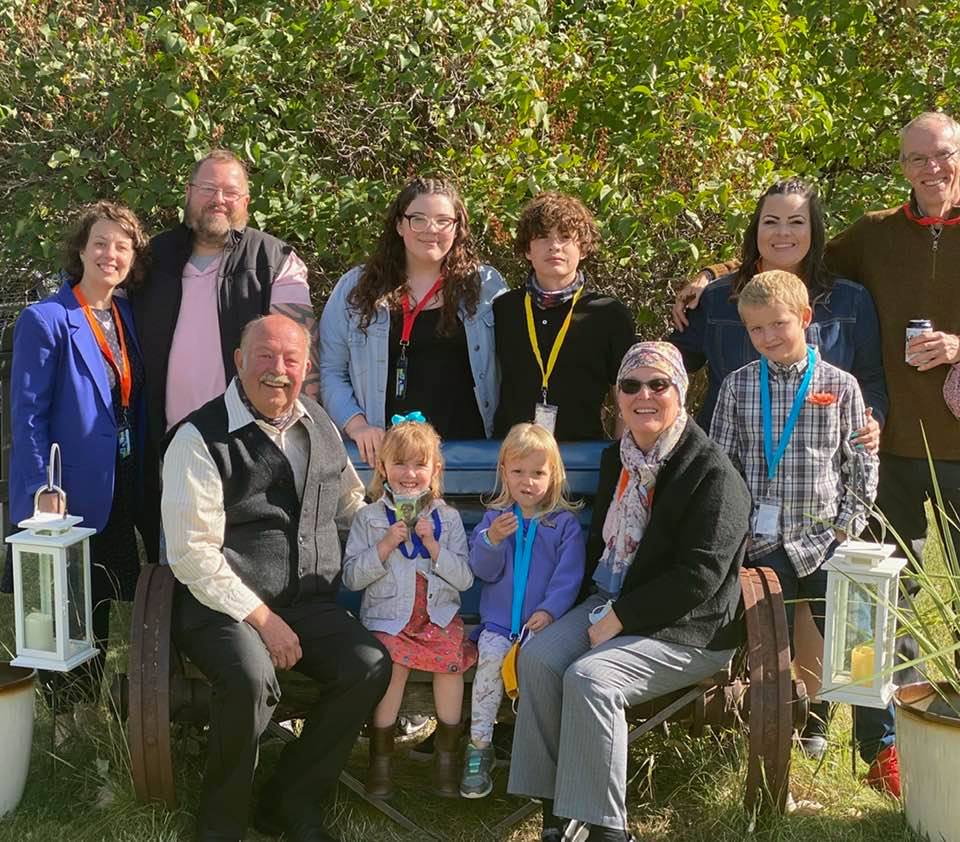 My Mother, Michele, and Father, Nels, with my wife Valerie (back right) and four of our five kids (in order from left to right: Keyli, Cody, Darion. Brooklyn is sitting next to Nels). My sister Lisa is standing next to me, her husband Matt (back right), and her daughter Ava sitting next to my mom.
Ryan Lofgren, Pat Schindele, and everyone else mentioned in this blog do not own the rights to the "Field of Dreams" photos. The rights remain with the Gordon Company and Universal Pictures.