Fingers Crossed
BY RYAN LOFGREN
(PAT SCHINDELE'S MARKETING SPECIALIST)
I proposed to my wife on the fourth of July over seven years ago.
I was a nervous wreck.
We took a family trip to Denver, with the primary goal of seeing the Los Angeles Dodgers play the Colorado Rockies at Coors Field with a Fourth of July fireworks show to follow the game. It would be the first major league baseball games our kids had been to in person. I carried the ring in my pocket the whole way down to Denver. I wasn't letting it out of my sight. I even messaged the Rockies trying to figure out how I could use the big screen at the field to propose. (Turns out you have to pay quite a bit of money, and they put it on a much smaller screen.)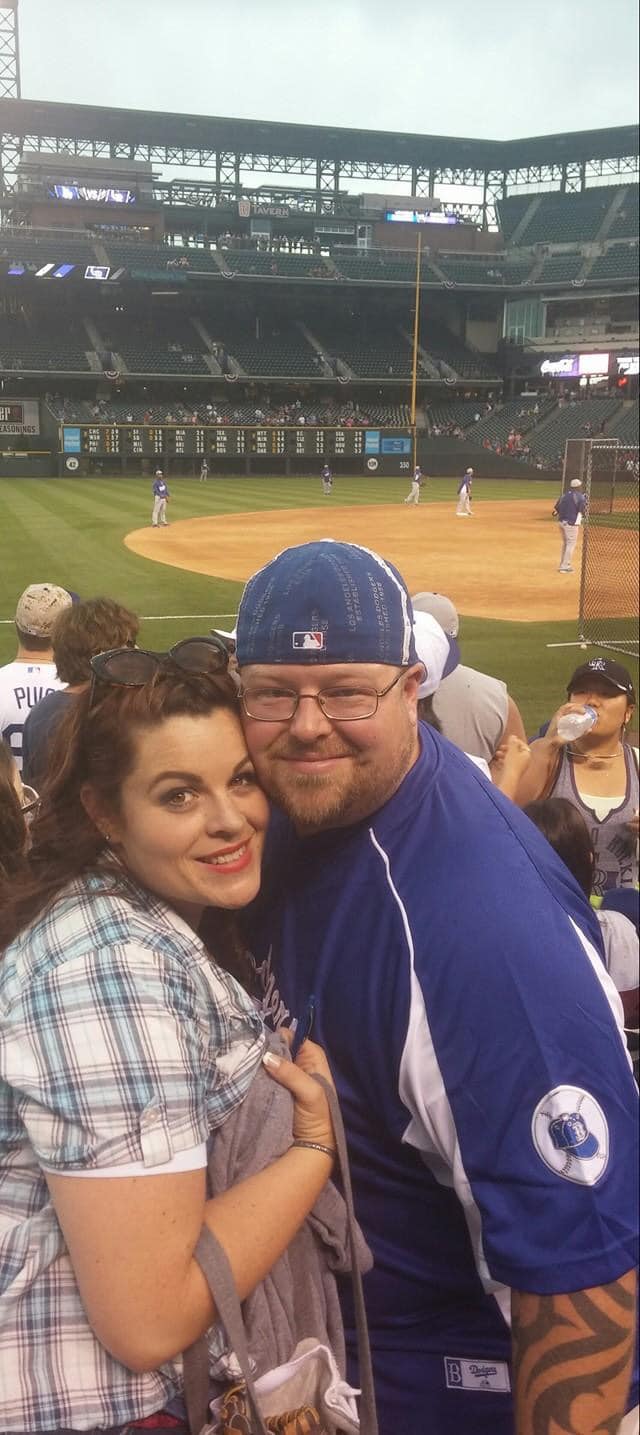 Walking into the stadium I had mixed emotions. I was nervous about the proposal and excited to see the Dodgers play. Clayton Kershaw was pitching that night. (We'd later on name our cat Kershaw. We're ridiculous.) I drank beer after beer trying to calm my nerves. Not being a huge drinker I'm sure my wife was surprised by how many I was putting away. I think I spent over a hundred dollars on beer alone that night. My plan was to propose during the firework show after the game. I had played out the proposal in my head so many times. Unfortunately, as things often do, my plans changed.

When the game finished a lot of the seats around us cleared out. A huge family moved into the seats in front of us. They were sitting two to a seat in some spots. They were loud, shouting at each other and two of the boys were shoving each other. At this point our kids were tired and agitated. So I recommended we move to a different spot to see the fireworks better, hoping to find the perfect spot. My wife, noticing my peculiar mood all night, was already frustrated and I kept stopping to try and see the view of the fireworks from inside the stadium. The fireworks had already started at this point. I was getting a little frantic. As we were walking the kids began to complain more, "My feet hurt. I'm tired. I'm hungry." Having reached her final straw, she stopped dead in her tracks, her back still towards us, and yelled "Does anyone else have anything they'd like to say?" At this point I figured it was now or never. I said "Yeah, I've got something I'd like to add," and I dropped to one knee. She turned around to see me on my knee, and promptly hit me with her sweatshirt. People watching the fireworks began to notice us and some turned to watch. I asked her to marry me. She said yes. The few people watching clapped. It was not quite the romantic proposal I had in mind but it was memorable nonetheless.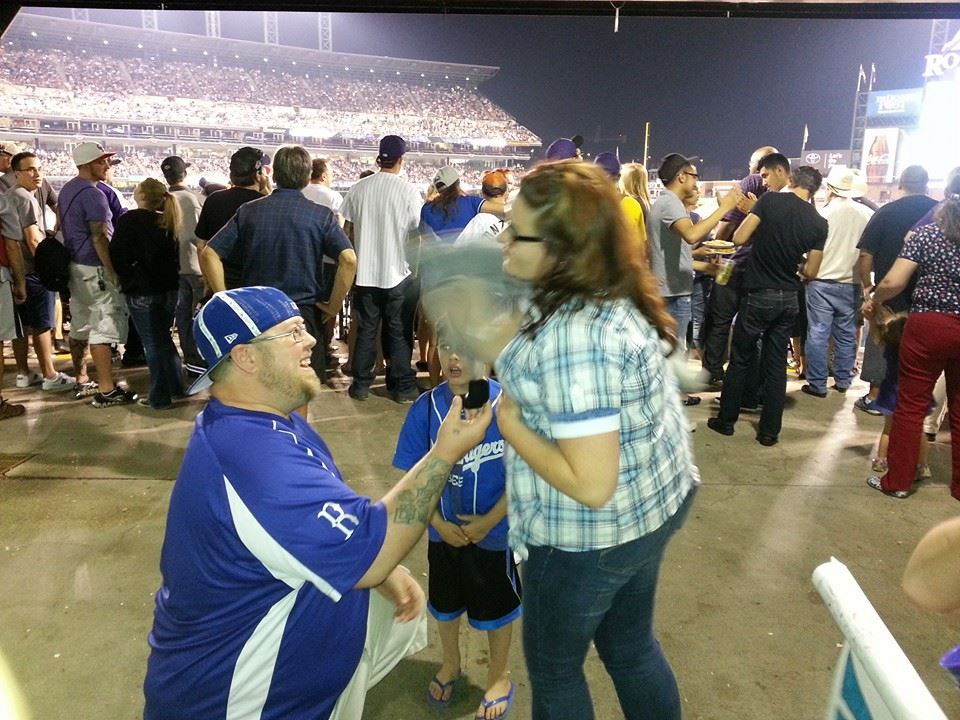 (above) My oldest son captured Val with her sweatshirt in mid-swing. (below) She said yes!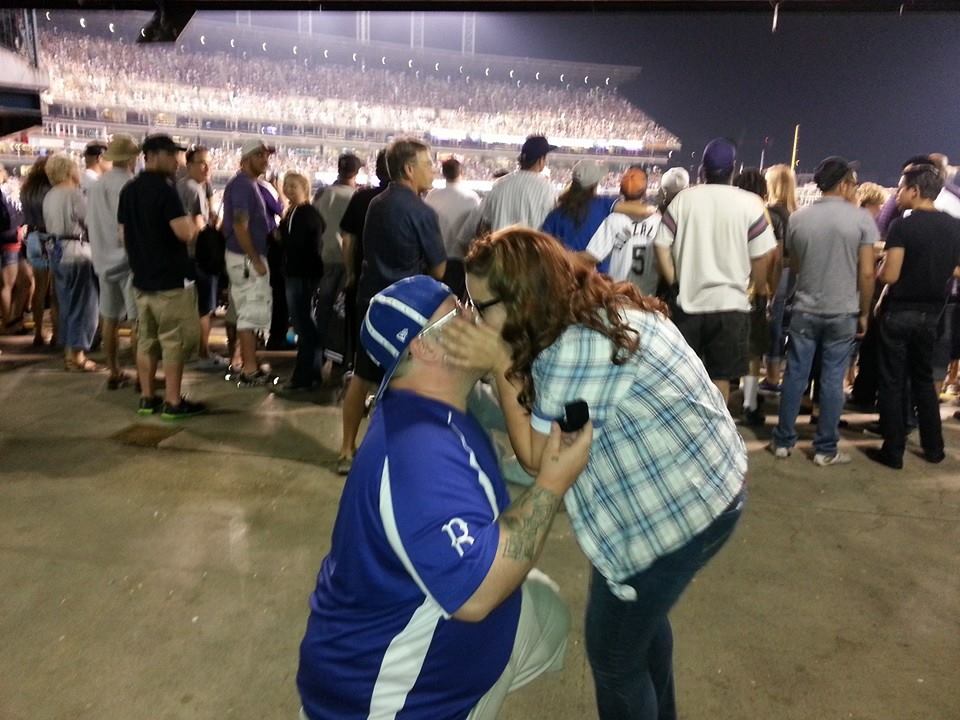 My wife and I have now been married for five and a half years. We were married on 4/16/16 at the Billings Depot in downtown Billings. The venue was absolutely amazing. We had a local shop handle the decorations, with some of our nerdy, rustic country charm scattered throughout. We even managed to sprinkle in some Harry Potter book pages under the centerpieces. It was an event fit for a queen. My wife always joked that since she eloped with her first husband, she was going to have an actual wedding this time with food, music, friends, and family. She wanted the day to be about us. We looked at several different venues for the wedding but we knew the Depot was where we wanted to get married. We planned on a date that was outside of wedding season to get a better deal. We paid our deposit for the date, and set our savings goal for the cost of the venue.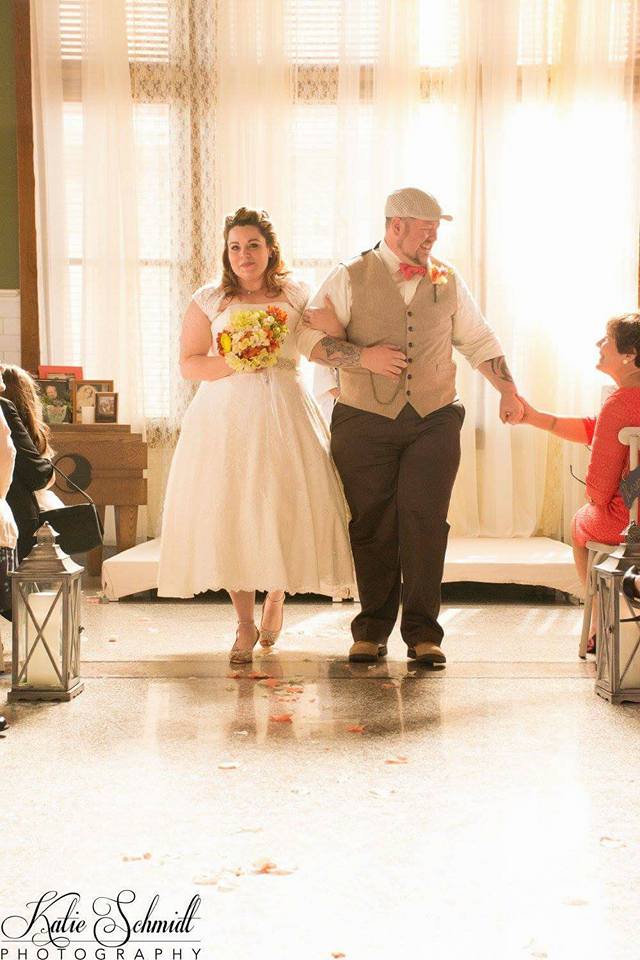 When we reached our goal, I went into the Depot with money in hand to pay the balance we owed. The woman working the desk that day sat me down and she pulled out the contract. Only a few minutes into our conversation I realized that the amount of money I brought in wasn't going to be enough. We needed to pay for the risers we would be standing on during the ceremony, and the risers needed in the reception room for my wife and I to sit on so we could be seen better. We needed to pay for the bartenders, and with the number of people invited we would need to pay for a security guard. Outside alcohol couldn't be brought in for the wedding party which threw a kink into the works since the bridal party was getting ready there. So we needed to buy any bottles of wine or champagne through the Depot. The list continued to grow. Determined to make this a memorable event for everyone involved, I bit the bullet and paid the extra fees. We had our hearts set on this venue, extra costs be damned.
Buying a house is very much the same situation. Without proper knowledge going into closing on a home, people could be blindsided by factors they weren't expecting. People often tend to save up enough for a down payment but neglect to plan for the closing costs (often 3-4% of the home's value) that must be paid at the end. Even when planning savings for an emergency fund, don't forget about fees like HOA or maintenance that should be added into the savings plan. I read an article that highly recommended that if paying for closing costs and leaving some emergency funds in your savings account means not putting down the full 20%, it might be beneficial. Not putting the full twenty percent down may mean paying private mortgage insurance as a result, but that might be the deciding factor that saves you from running out of savings or relying on credit cards or other high-interest options to survive. Planning and asking the right questions so you're prepared for what's to come could end up saving you and your family a lot of hassle in the long run.
On our wedding day, I remember walking into the hall where we were going to have our ceremony and I knew we had made the right choice. The chairs were lined up and decorated. We had a table near the risers that had pictures of our loved ones no longer with us. We knew they were with us in spirit when the light shone through one of the windows, landing perfectly on the pictures. Our ceremony and reception ended up being second to none. The decorations were beyond our wildest dreams. The venue was perfect. I realized through this whole experience that it's all about asking the right questions. Sometimes the question is a simple one like "what other fees can we expect to pay." Other times the question is as complex as "Will you marry me?" It never hurts to keep your fingers crossed either way.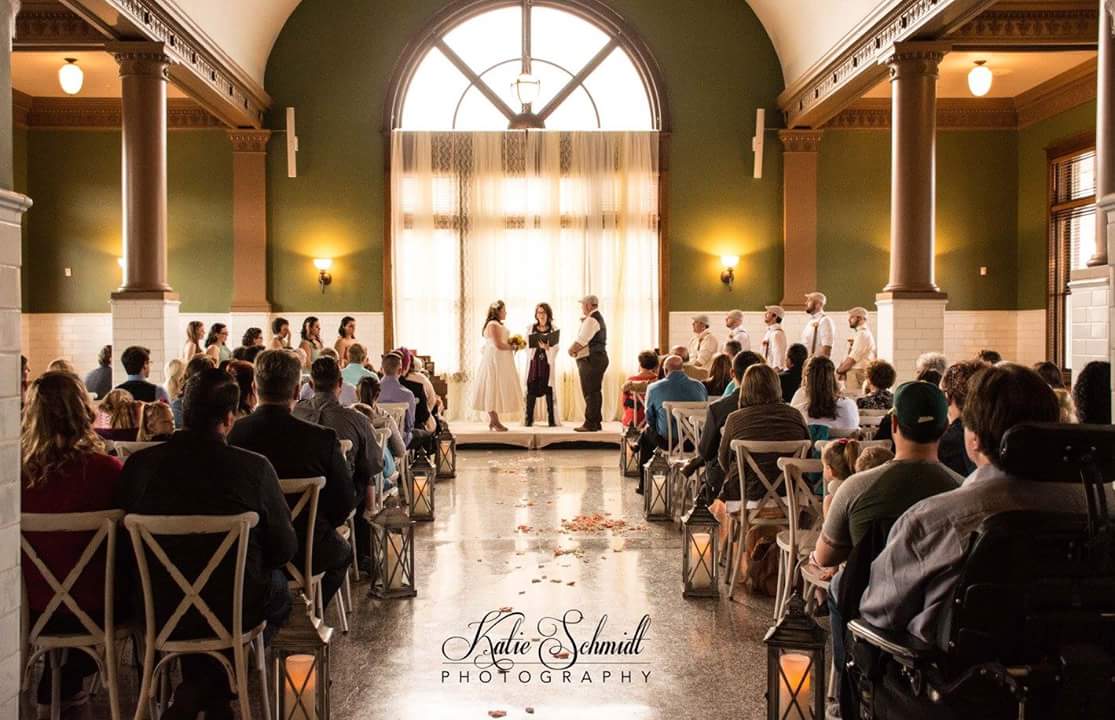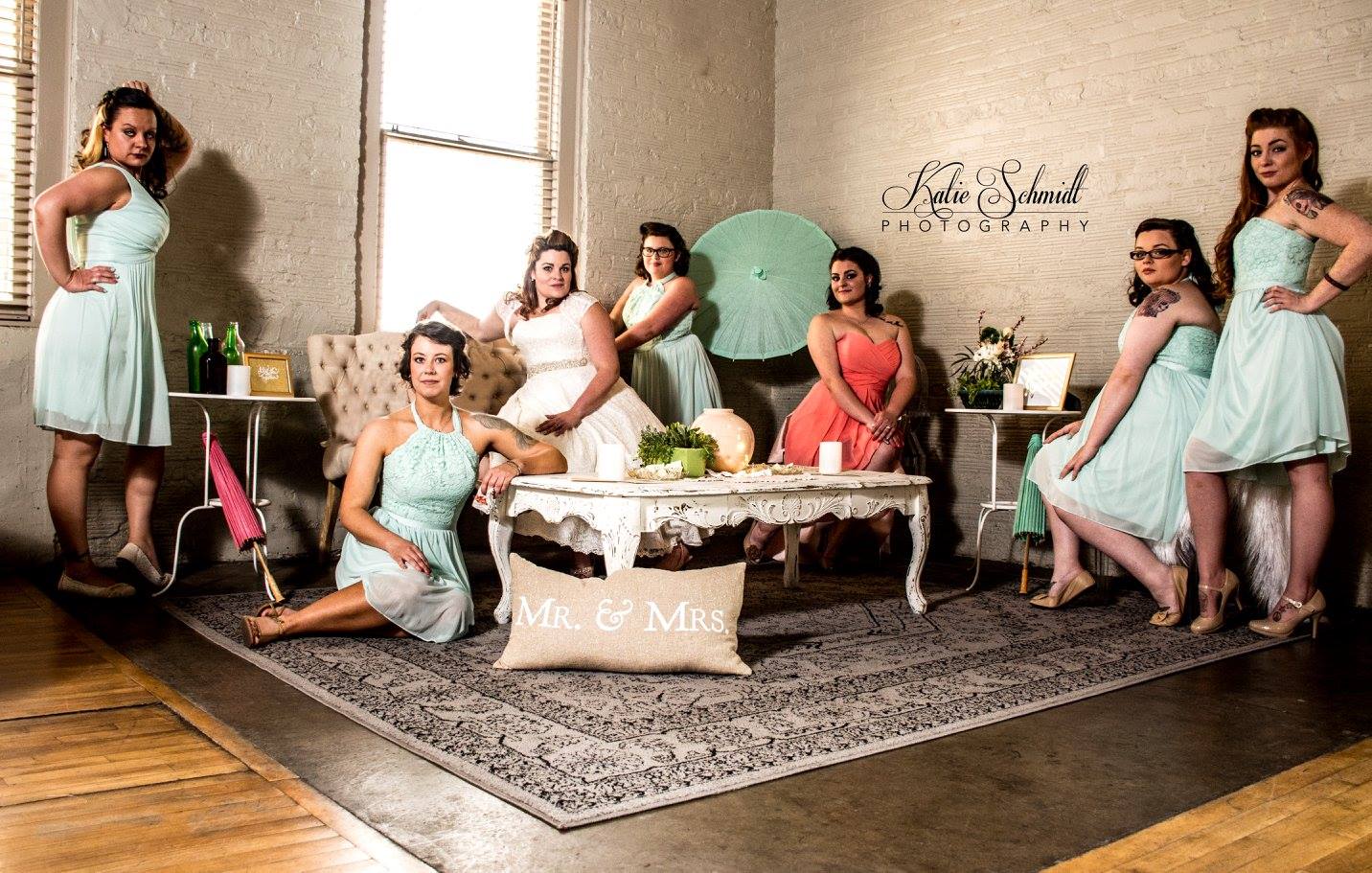 ALL VIEWS EXPRESSED IN THIS BLOG ARE MY OWN AND DO NOT REPRESENT THE OPINIONS OF ANY ENTITY WHATSOEVER WITH WHICH I HAVE BEEN, AM NOW, OR WILL BE AFFILIATED. MY VIEW IS MY OPINION AND THE INFORMATION ON THIS BLOG IS NOT INTENDED TO BE A SOURCE OF INVESTMENT ADVICE FOR PURCHASING HOMES OR PROPERTY WITH RESPECT TO THE MATERIAL PRESENTED. THIS BLOG CONTAINS COPYRIGHTED MATERIAL THE USE OF WHICH IS STRICTLY PROHIBITED. PLEASE RECEIVE PERMISSION FROM THE COPYRIGHT OWNER BEFORE USING THE MATERIAL ON THIS SITE.